Ministry of Justice Publishes National Strategy for Protection from Domestic Violence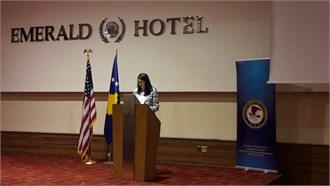 Chief Executive of the Agency for Gender Equality, Edi Gusia participated in the launch of the National Strategy for Protection from Domestic Violence and the Action Plan 2016-2020. Present at this launch were Minister of Justice Dhurata Hoxha, Deputy Ambassador of the United States of America, Colleen Hyland, Chief of the Agency for Gender Equality, Edi Gusia, Head of UNWOMAN Office, Ms. Flora Macula, and the National Coordinator for Protection from Domestic Violence, Deputy Minister Munir Basha.
On this occasion, the Minister of Justice, Dhurata Hoxha, assessed the importance this strategy has for Kosovo. "Domestic violence is undeniably one of the most ominous and appalling phenomena, for which ongoing efforts are being undertaken at the international level. As a worldwide phenomenon, fueled by outdated customs and patriarchal traditions of domination and control, domestic violence is often the main cause for the loss of human lives." said Minister Hoxha.
"Although our efforts to prevent further domestic violence cases are yielding slower results than we would all want, we will never stop until we make zero tolerance a reality for hundreds and thousands of children, women, the elderly who are subjected to violence," stressed Minister Hoxha.
The Chief Executive of the Agency for Gender Equality, Edi Gusia emphasized that with the drafting and adoption of the National Strategy of the Republic of Kosovo for Protection from Domestic Violence and Action Plan 2016-2020, proves the willingness of the Government of Kosovo to handle the phenomenon of domestic violence as an important objective that requires constant attention over the years. Throughout the process of formulating and drafting the strategy, all relevant state institutions dealing directly with domestic violence and violence against women, as well as representatives from civil society, partner organizations and international organizations have been consulted in the process of drafting.
We as institutions and civil society, together with our local and international partners need to insist on co-operation and regular communication with each other. In the light of this horrific phenomena, it is of utmost importance to address this high occurrence in the focus of policies at the state level. Local government plays a key role in managing the situation when dealing with cases of domestic violence and it is imperative that the local government take over its responsibilities in order to undertake concrete actions, follow up with adequate budgetary means, and to provide accountability when the needs of victims of domestic violence are disregarded - said Chief Gusia.
Please follow this link to access the National Strategy for Protection against Domestic Violence and the Action Plan 2016-2020: