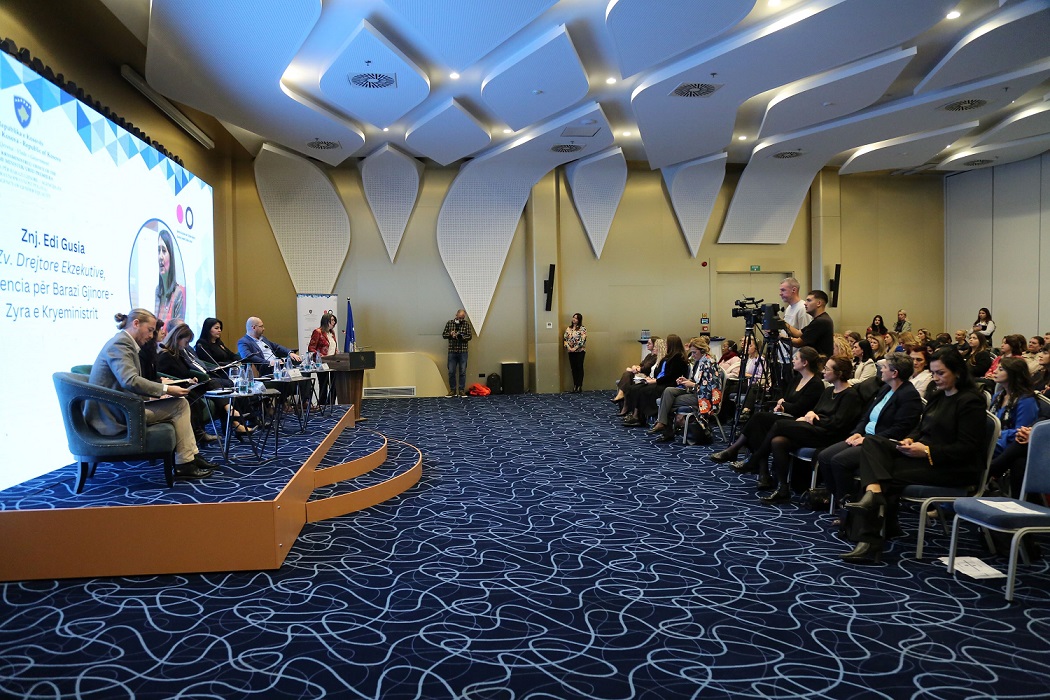 The Agency for Gender Equality (AGE), within the Office of Prime Minister, in cooperation with Kosovo Center for Gender Studies (KCGS), today have organized a regular consultative yearly high level meeting, sixth in the raw with institutional actors, experts and representatives from civil society. This year, the meeting was focused on Kosovo commitment towards the process of European Integration form gender perspective.
D. Chief of Executive of Agency for Gender Equality Edi Gusia said that this is not a yearly meeting organized with aim to deepen the cooperation between intitutional state and and goverment actorrs and respresentatives of civile society, where it was focused on Kosovo engagmenet for European Iontegration, where the focus has the integration platforma and advance the agenda of gender equality in all pillars of european integration. The Gender Equality is cnsidered as a fundemantal value which is deepen in the architecture of existence of European Union, it is a part of criterias which should be fullffilled in the process to closenes to the values,principals, conditions nd demands by EU are not sufficient to make the gender equality daily reality and to see the fruits and its benefits.
In our daily path, AGE as the high level mechanism of the country to promote and guarantee the gendeer equalilty, it is the natural alleance of the agency is civil society, womens organizations and not only. The intsititutional cooperation of GRK with civil society in execution of gender equality, exapt that it is e legal obligation it is foreseen with Working Regulation of Goverment, it is a natural closiness of healthy dialogue between the Gioverment and Institution of AGE and civile society, which derives form historical past and activation of Kosovo Women from the time of resitance.
Today, they are transformed in powerful organizations of women and civile society with whom we cooperate,we are engaged and not many times we are oponent or share the same approach, methods or intsruments, but we remain Institutional , engaged and cooperative for or aim to fully respect the human rights, the women and girls rights by putting them in concrete possibility and space which legal frame of RKS gives. But, on the other side I want to remind you that reports of international institutions have welcomed the crtitics, they are as important to notice the concrete achievements in real terms of Kosovo Institutions, every tiome based on facts, and last three years it is invested not little for the Agenda of Gender Euqlaity' stressed Mrs Gusia.
While, Luljeta Demolli, Chief of Executive at Kosovo Center for Gender Studies demanded more engagment from institutiosn to achieve the gender equality.
While D. Prime Minister of Kosovo, Bensik Bislimi said that elemination of gender unequality in Kosovo should be ahchieved in several phases. He stressed that intially it is important to empower woman within the family, then in economic and decision making positions, In a consulative meeting with subject " Kosovo Engament towards Europena Intergration form gender prespective", D. Prime Minister Bislimi has mentioned goverment measures, according to him are contributing to fight the gender un-equality.
On the otherside, the Head of Parlimantary Commission for European Integration, Rrezarta Krasniqi said that many Women are facing discrimination in Work Market, Finance and Property.
Also, in the floor presented Arjeta Feja, MP and first Deputy Head of Commission for Human Rights, Gender Equality , Missing Persons, Victims of Sexual Abuse during the War and Petitions, Mrs. Valmira Rashiti, Officer for Integration of Gender Perspective, Kosovo Women Network, Mr. Taulant Hoxha, Executive Director, Kosovo Foundation for Civil Society (KFCS).