It has been organized the conference with the title "Consultations on High Level regarding the Process of European Integration and Gender Equality"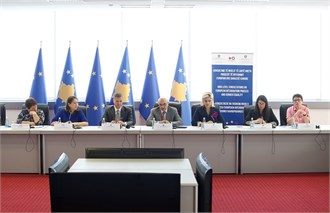 The Ministry of European Integration in cooperation with the Agency for Gender Equality and Kosovo Center for Gender Studies, today have organized the conference with the title "Consultation on High Level regarding the Process of European Integration and Gender Equality".
The aim of organizing of this conference is to have open and essential discussions with respective actors and as society we can advance the gender equality in Kosovo by working together with civil society in the frame of the Process of European Integration, especially in the process of execution of MSA (Stability and Association Agreement).

At the opening of the conference, the Minister of European Integration, Bekim Ḉollaku after thanking the participants stated that the presence of women in institutions, especially in the Ministry of Integration has shown that women are very competent for the work they do. They are more competent then males. According to him, as society it should be done more to transform the society and to make it closer to EU structures. The Issue of Gender Equality shall not be treated as a condition for EU Integration, but as necessity to develop this society.
Meanwhile, in the name of Government of republic of Kosovo spoke the Prime Minister of Kosovo Mr. Isa Mustafa, who stated that today's meeting it is of great importance, because we have a chance to speak regarding these issues, which I consider that do not belong to only to our European integration and only to our European Agenda, but are closely linked to our Kosovo Agenda, because we want to establish and build a state which has values of inner democracy.
It has values of gender equality and has values of national equality and in which country all citizens will be feel equal despite their gender, ethnic or social differences. It would be good that this should be developed in the same nature and we shall not have a need to differentiate. After all, we should create equal conditions of inclusion of all citizens in development processes. In the process of education, culture, employment and gender equality.
At the end I wish that altogether we can achieve results and broader representation of women in all institutions and to create conditions for full gender equality in all process of economic development, social development and democratic development, stated Mustafa.
The Acting Chief of Executive in the Agency for Gender Equality, Edi Gusia at the end of the meeting presented the recommendations and expectations of AGE as far as issues discussed during the meeting and which they are:

Creating institutional practice and cooperation between mechanism for European integration and gender equality in country level as well as planning the execution of EU Assistance.
Increasing the representation of women and girls in institutional life through undertaking prompt and sustainable actions or those which are temporary, as affirmative measures.

Execution of gender budgeting followed by separate statistics on gender bases.

Execution of policies combined as those foreseen on National Strategy for Development to achieve the level of participation of women and girls in labor market.

At the end monitoring public policies with gender indicators that would easy and follow the process of addressing the problems and drafting public policies on gender bases that would contribute the development and creating a harmony and equal society that would ensure all inclusive participation and constancy in the process of social-economic development and peace in Kosovo and region.