"Girls Innovate for Change" marks the International Women's Day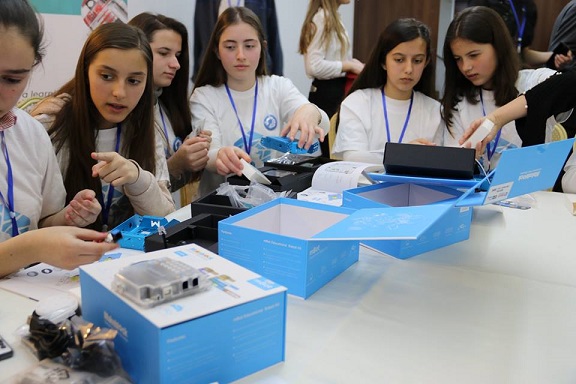 At a time when innovation is dominant, shaping and changing the way people live in every part of the world, we have to be intentional about its use to positively impact the lives of everyone, in particular of women and girls. That means making sure they are not only consumers of innovation, but take their place as active innovators. To propel this idea forward and mark this year's International Women's Day -8th of March, IPKO Foundation together with UN Women, UNICEF, UNKT, the Agency for Gender Equality and SIDA organized a workshop "Girls Innovate for Change".
While opening this workshop Ms. Edi Gusia, Chief Executive of the Agency for Gender Equality, stated "I hope today's workshop will be inspirational, help you work for your dreams, and embrace science, as science is the most powerful tool, which has challenged inequality
for centuries." Given the low (<30%) participation rate of women in technology in Kosovo, the objective of this workshop was to equip the participants with the needed skills for this industry, but also to highlight the importance of technological investment in the power of young women and girls as fundamental to breaking the intergenerational transmission of poverty, violence, exclusion and discrimination by achieving equitable and sustainable development options.
The workshop was attended by 50 young girls from 10 municipalities in Kosovo, who were accompanied by their teachers. While honoring this year's United Nations (UN) theme for International Women's Day, "Think equal, build smart, innovate for change", the girls
had the opportunity to focus on learning by doing as a tool to empower girls in breaking the barriers in male dominated professions. In her opening speech, Ms. Ulrika Richardson, United Nations Development Coordinator stated "In my lifetime, growing up in Sweden,
I witnessed how inclusion of girls and women accelerated societal changes, innovation and technology. Now, I recognise these same energies here in Kosovo society building, making the qualitative shift towards achieving equal representation of women and girls in areas where they were - and still are - underrepresented; education, jobs, politics, innovations and of course technology!"
To achieve gender equality, there must be social innovations that work for both women and men and leave no one behind. Science and gender equality are both vital for the achievement of the internationally agreed development goals, the 2030 Agenda for Sustainable Development, to which Kosovo has also committed itself. Over the past 15 years, the global community has made a lot of effort in inspiring and engaging women and girls in science. Yet women and girls continue to be excluded from participating fully in science. Over the years Ipko Foundation
has inspired more than a thousand girls to join the ICT field. On this occasion, Abetare Gojani, program director at Ipko Foundation said "We at IPKO Foundation base our actions on the belief that when you empower women, you empower the whole society."
The United Nations remain a crucial actor in implementing the 2030 Agenda, including SDG5 on gender equality, in Kosovo.
---