AGE in cooperation with MEST has presented the manual "Preventing Gender Stereotypes and Promoting the Gender Equality in Textbooks and School Materials"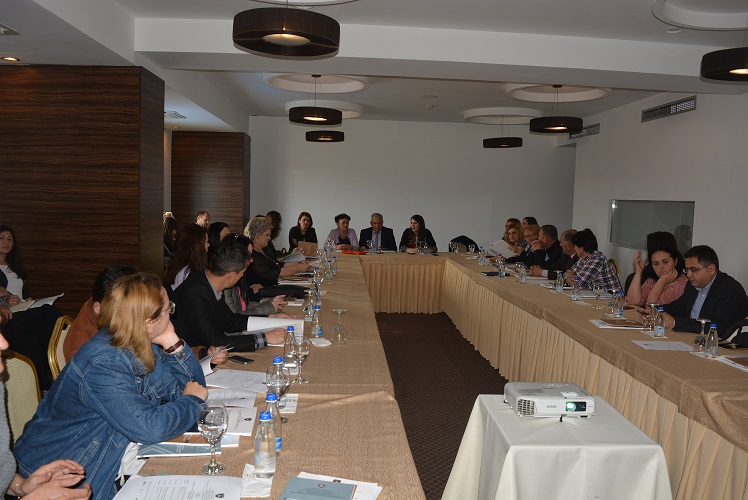 On 06 June 2019, the Agency for Gender Equality/OPM in cooperation with Ministry of Education, Science and Technology has organized in Prishtina a presentation of methodological manual "Preventing the Gender Stereotypes and Promoting the Gender Equality of Text Books and School Materials. The methodological manual "Preventing gender Stereotypes and Promoting the gender Equality in Text Books and School Materials is a document drafted from Project to "empower the Agency foe Gender Equality and institutional mechanisms for gender equality in Kosovo" financed by Government of Sweden-SIDA, which is ran by Consortium Niras & CPM International.
This manual is in direct execution of demands of Law for Gender Equality N. 05/L-020, respectively article 2, which demands drafting school textbooks and their review from gender perspective ad elimination of gender stereotypes in textbooks and school materials. At the same time, the document drafted is concrete execution of Law to publish Schoolbooks and Standards for Schoolbooks in Republic of Kosovo, specifically on direct execution of standard 11 for integration of gender equality and school materials and policies of Ministry of Education, Science and Technology "The Frame of Curricula for Pre-university Education of Kosovo".
The meeting was opened by Chief of Executive of AGE Mrs. Edi Gusia, who thanked the Working Group and Project for the work done in drafting of this necessary manual to execute gender perspective in textbooks and school materials, as contributing factor fro powerful social transformation and changes as well as advancing socio-cultural norms that eliminate social inequalities and ensur5e sustainable progress.
Then the floor was taken by Political Advisor of Ministers Cabinet of MEST Mr. Fatmir Bytyqi , who spoke about the importance that has the inclusion of gender equality in development of society and stressed that "the mentioned document from coming years will be applied in every schoolbook which will be drafted as basic for this manual in order that during drafting of textbooks it will eliminated gender stereotypes.
The Leader of Project managed by NIRAS &CPM International and financed by SIDA, Mrs. Blerinda Idrizi presented the content, aims and main and potential users of methodological manual. She stressed that despite that methodological manual aims to be practical tool, with a group of systematic actions in assistance to analyzers of textbooks during their publications, it will serve at the same time to the authors of textbooks, teachers in teaching, policy drafters and executors in education sector, parents and civil society in monitoring he gender stereotypes in text schools.
The manual is designed in three main chapters, where in the first part offers a all-inclusive overview regarding the importance of textbooks as a tool for social changes and gender equality. Moreover, offers an all-inclusive picture of concepts of gender equality and human rights with the aim for qualitative education which aims to achieve reforms in education. The second part offers a picture of basic gender elements and the their importance in process of drafting textbooks, an overview about the used methodology for drafting of this methodological manual and describes main principals as how to achieve gender representation I textbooks. At the end, the third part offers means to evaluate representation on gender in textbooks during the process of evaluation, reporting and final assessing the worth fullness and quality of textbooks.
Mrs. Idrizi thanked the working group for the work done and characterized this work and cooperation as successful, all inclusive and with engagement and large and professional commitment. She also thanked the political staff of Ministry of Education for support for this initiative and stressed the support of civil servants and gender equality from leading political staff which resulted always in better and qualitative execution of reforms taken by Kosovo Institutions.