It was organized round table-Gender representation in a local level two years after local elections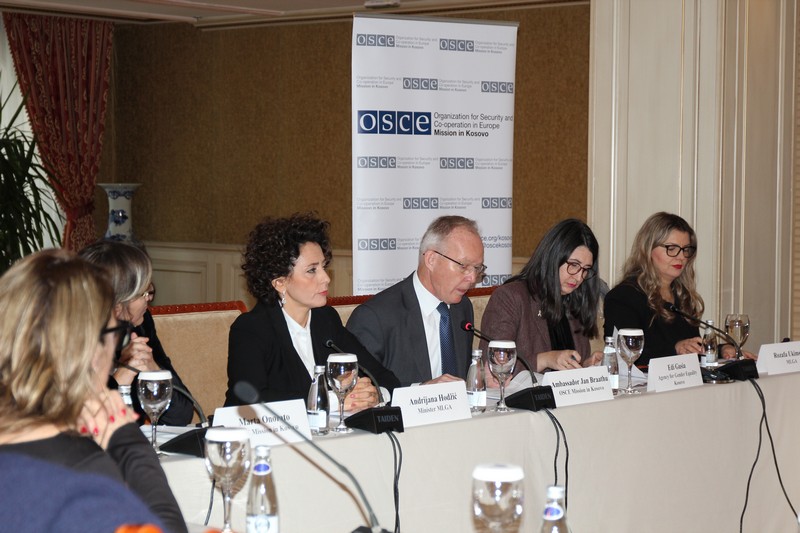 Organized by Ministry of Administration and Local Governance and in cooperation with OSCE, it was organized a round table with subject gender representation in local level after two years of local elections,
At the meeting were present representatives of local governance, other government institutions, representatives of local non-governmental sector as well as representatives of international organizations.
During the table, The Minister of MALG Mrs. Hodžić stressed that "In past two years it was registered progress in inclusion of women in local institutions, but it the fact that this principal did not achieve desired level". According to her, it is necessary to fully execute all laws and institutional mechanism to combat discrimination and marginalization of women in all spheres of life and processes that are occurring in our society.
Part of panel was also Chief of Executive of Agency for Gender Equality, Edi Gusia, who stressed that our common meetings like this today are call for all institutions to attach to the mission that society, public and private institutions are working towards empowering of girls and women and brining their voice in decision making to raise democratic governance and social right in Kosovo. Gender Equality and empowerment of women are necessary to achieve sustainable development of country by putting the needs of women and girls in center of awareness in process of execution of public policies in coherent manner, with enough financial and human resources and monitoring and execution of it continuously with gender indicators and with will to review decisions in benefit of all, inclusion of women and other marginalized groups, to bring them within agenda of development and welfare.
Also, from MALG (Ministry of Administration and Local Governance)) certificates were distributed for gender representation in local level for the Mayor of Drenas Mr. Ramiz Lladrovci and Mayor of Kamenica Mr. Qëndron Kastrati, who evaluated good performance based on performance of gender indicators.