The Agency for Gender Equality/ Office of Prime Minister has marked 8 March- International Women's Day, through Launching and Amending the Legal Frame for Protection from Domestic Violence as well as presentation of final draft of Kosovo Program for Gender Equality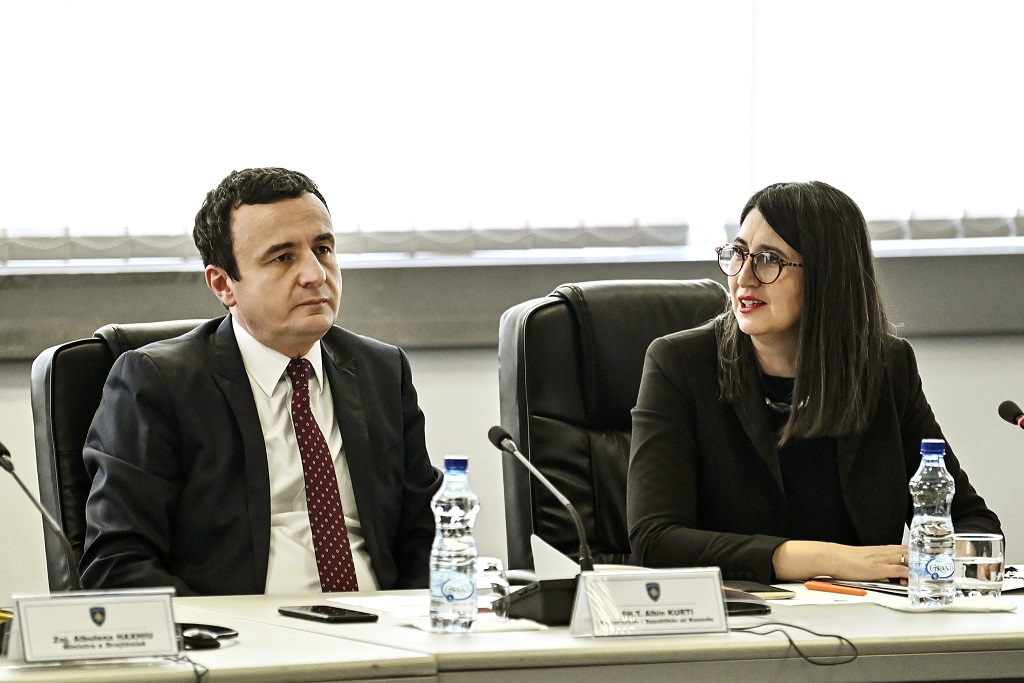 The meeting was opened by the Chief of Executive of Agency for Gender Equality who gratitude the Prime Minister Kurti for the mandate of Government and thanked on name of Agency for Gender Equality and institutional mechanism for gender equality, for a successful mandate of government and at the same time with offer readiness to contribute continuously in execution of agenda of gender equality to gain commitment to improve the life of citizens, women and men in Kosovo.
Long and short term priorities of working agenda are put in place within the execution of LGE and in its wholeness of legal frame which guarantees gender equality a non-divided part of human rights. And within this inter-institutional cooperation allow me that on occasion of marking the 8 March in symbolic manner we will mark and present in front of cabinet the mandated government program in closing the process of drafting Kosovo Program as a single government program mandated by the law which demands attention of Government and we hope to have its evaluation and approval. The configuration today's invitation as participants in process of drafting the program, presents a 2 years attempts with inclusion in working groups with government decision of 80 members representatives of institutions, civil society, domestic and international organization, a process model of institutional attempts for all-inclusive approach in drafting government policy which aims to ensure that the process of achieving gender equality to put in center of process of transforming the society within all its structures, institutions, policies, procedures, practices and government programs, civil society, private sector, community of donors.
The process of drafting in year 2017 in drafted methodology from supporting project of technical assistance of SIDA for AGE executed through Consortium NIRAS CPM and approved by leading the comity and presented in front of members of working groups. In period October 2017-2018 there were completed 13 workshops to draft this document where 499 participant have taken place (355 women; 75 men) and the whole work was based on initial analyze of situation including strategic documents with long term approved priorities, earlier as sectorial strategy which are in execution, by ensuring continuance at institutional initiatives, stressed Mrs. Gusia.
In this meeting occasional word was held by the Prime Minister of Republic of Kosovo Albin Kurti, who said that the situation of woman in Kosovo society is bad, while he asked to be worked every day to achieve the desired progress. This program should be interlinked and in harmony with government program which treats the rights equality as key subjects of all subjects.
We all know that the situation is bad and we have to talk not only on 8 or 09 March, but in every day. The situation is bad and not only to speak, but to work every day to achieve progress. The obstacles are great. Today, women are underrepresented and under employed, subject of violence and sexual abuse of media object. The inequality is not only non-right but it is costly also.
Women are consisting part of economy, but they are not part of economic development and are excluded form decision making and labor market. This harms our economic potential. The obstacles are many and we know, because we have said several times but there was a lack of governance which would give appropriate direction, stressed Prime Mister Kurti.
The Ministry of Justice, Albulena Haxhiu welcomed the meeting and she sad that "it is clear that Republic of Kosovo should be in part of countries in institutional mobilization to fulfill obligations which derive from Istanbul Convention and it is urgent that in Assembly to proceed with draft law for protection from Domestic Violence",
She asked that court and police would not prejudge cases but should deal with violator " As far as draft-taw is concerned for protection from domestic violence I believe that very so should be proceeded in Kosovo Assembly and we should have a coordination with corresponding commission for human rights. It urgent needs to approve this law to address several issues".
I believe that we should have a Secretariat within Ministry of Justice, that despite if government are changed or not it should be functional in institutional level and I believe that this should be addressed in draft law for protection against domestic violence. Also, it should be arranged the role and duties and responsibilities of shelters and the state should finance them 100 percent. In budget for 2020, 900 Euro are allocated for shelters and for the first time it was announced a special line for shelters, said Minister Haxhiu.
The Minister of Culture, Youth and Sports, Vlora Dumoshi said that we will work to increase the level of participation of women in Kosovo institutions. She sad that department which is run form total 700 workers only 17 women have leading positions. This number is law for one institution and along with program of Agency for Gender Equality, we as government and ministry will work closely hat the role of woman to have more institutional responsibility, stressed Minister Dumoshi.
The Minister of Economy, Labor, Trade and Industry, Entrepreneurship and Strategic Investments Rozeta Hajdari said that its priority is to create best policies to increase the business in ownership of women "As minister in this mandate I will try and be committed maximally that women and men to have equal possibility that gender perspective to be include in every phase of process in planning, approval, execution. Main focus is to have better policies to increase business in ownership of women, in issues of employment, increasing the reliability for women, to have better policies in supporting legislation and policies for innovation and entrepreneurship" , said Hajdari.
The meeting was greeted by Emilia Redzepi, Minister in Ministry of Administration and Local Governance who said that I am head of this Ministry which runs 38 Municipalities from which 38 of Municipalities none of them are Female. It's good that quota was regulated by law and exists until we have small countries in transition and in this level of democracy. The program of government will have impact in Municipal Development for one equality of all communities and through this plan we will assist women to develop in urban areas, but also in rural areas, said Redzepi.
Presentation of final draft of Kosovo Program for Gender Equality was done by Mrs. Edi Gusia, Chief of Executive of AGE.