The Agency for Gender Equality has marked 08 March, International Women's Day with subject "To eliminate prejudice, work for inclusiveness"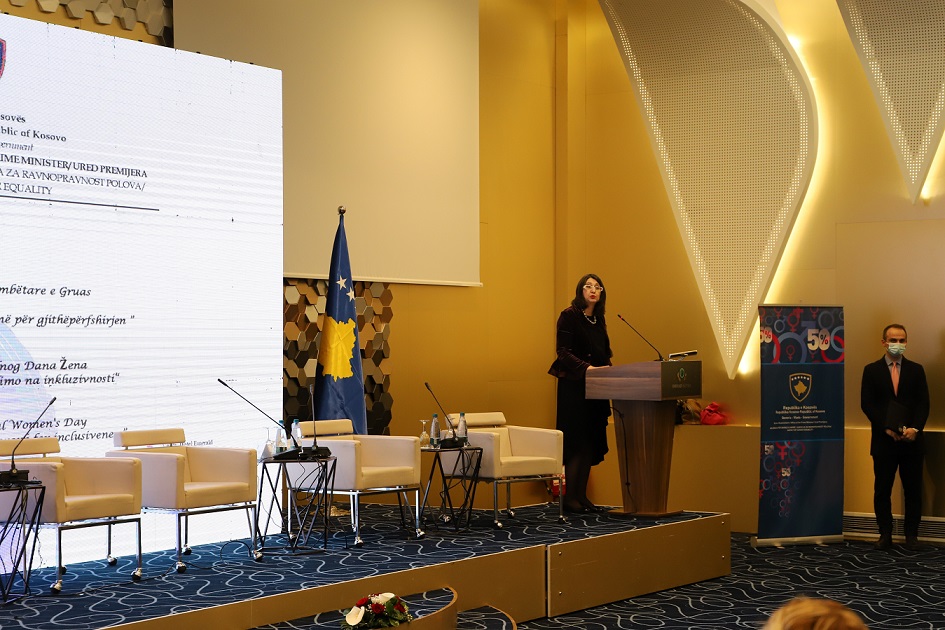 The Agency for Gender Equality has organized regular meeting to raise awareness to eleminate barriers that are preventing women and girls to achieve their full potential in society.
The support of women, who are now part of decision making in political and institutional level to guarantee their professional advancement, to ensure also through their presentation in public life, respectively completion of evenst that women speak about challenges, personal experiences and building their careeer. Therefore, AGE this year as a subject of event to mark 08 March is " Eleminate predujism, work for inclusiveness".
The Chief Executive of Agency for Gender Equality, Edi Gusia in opening of meeting spoke about the importance of 08 March. She told that this Holiday is marked globally as a day that offers platforma to discuss the common cause for rights of women, challeneges to achieve gender equality, to fight the violence against women, approach on adequate finacial resourses for girls and approarch on employment.
It is also the day to collect us to mark cultural, political and socio-economic achievements of women. The world is not the same, and before the end of pandemic, we are now wittiness of a disaster in heart of Europe, the war in Ukraine.
There are hundreds of women and girls, men and boys who are facing with horror of injustice war. Today at the moment there are hundreds of girls and boys along with their mothers that are facing exodus, they are facing the death and unfortunately we are hearing there is warning of sexual abuse as a war tool against Ukrainian Women. All participants in the hall with all our heart and mind pray and hope that the war will stop in Ukraine. Unfortunately, for women and men of Kosovo these wounds are still fresh and opening bad memories that are not forgotten. We believe that there is possibility for peace among people and the dialogue between parties should happen, and Kosovo witnesses the readiness for peace, through engagement. Voices of many women and girls especially their engagement and voice of a woman- President of Kosovo Mrs. Vjosa Osmani- stressed Mrs. Gusia.
While, the President Vjosa Osmani stressed that "Gender Equality is precondition to adress all challenges. We can achieve prosperity only then when we defend their rights. We should all get united to give spirit to gender equality in house and in the street. From work to action, the ditsch is stiil deep". This ios is our primar commintmnent.
The Prime Minsiter Albin Kurti said that common institutional organiying is the only alternative. According to him gender equality is basement of social equality. Creating equal possibilities is our priority in program for gender equality. Within a year, we have allocated assistance for 142 thausand born children. We are working for small children to raise with values to include gender equaity said Prime Minister Kurti.
While, the Chief of EU Office said that advancing the women rights is still not enough, gender equality is a integral principal of EU. EU is marking this day by adressing challeneges and offering possibilities for transition, gender equaity is enhancing. I would like to congatulate Kosovo as a good example to empower women by giving leadership positions. It is clear that the representation is not sufficient, but it is vital to hold decision making positions.
AGE has organized 4 discussion panels with women and girls in different decision making levels including first panel with deputy of Head of Parliamanet of Republic of Kosovo Saranda Bugujevci, Duda Balje-Head of Commission for human rights, gender equlity and missing persons, victims of sexual abuse of war and petitions, Fatmire Kollçaku-Head of Commision for Health and Welfare, Doarsa Kica- Head of Commisioon for public administrartion, local goverment and rural development. Igballe Rogova-, Head of Women Group.
The second panel was consisted of Emilija Rexhepi, Deputy Prime Minister of RKS, Donika Gervalla, Minister in Ministry of External Affairs, Royeta Hajdari- Minister at Ministry of Industry, Enterprise and Trade. Artane Rizvanolli- Mininster at Ministry of Economy., Edona Berdynaj- Deputy Minister of Education, Technology and Inovations and Lule Demolli from Kosovo Center for Gender Studies.
In a third panel was the Ambassdor in Kosovo Chrysoula Aliferi- Ambassador of Greece in Greek Embassy, Danijela Barišić-Ammbasador in Croatian Embassy, Carin Lobbezoo- Ambasador in Embassy of Holland in Kosovo, Cyprien François-representative of Embassy of France, Ulrika Richardson, Coordinator for Development in United Nations in Kosovo, where Ambassadors brought their experiences in eleminating the prejudism in places where they come, what was their jurney for the position thet they are holding as diplomatic service and what measures they propose in a manner to incurage girls and women to follow diplomatic service.
At the end the fourth panel was consisted of General Auditor of Republic of Kosovo, Vlora Spanca as first Woman in the Region and in Kosovo in capacity of Auditor, Anita Kalandari- Executive Director in Agency for Freee Legal Assitance, Leonora Selmani- Head of Commission to verify the status of survivors of sexual abuse during the war. Mrs Krenare Sogojeva, Commisioner in Agency for Information and Privacy, Mrs. Fahrije Ternava-General Secretary in the Ministry of Internal Affairs, Mrs. Vlora Nushi, Head of UN Women Office in Kosovo. They all presented the challenges that thay are facing in developing of their political and decision making career, positive excperienses and programs that can be undertaken by society and institutions and a manner to encourage girls and women to be a part of decision making process.