The Agency for Gender Equality has welcomed in a meeting a delegation from Ukraine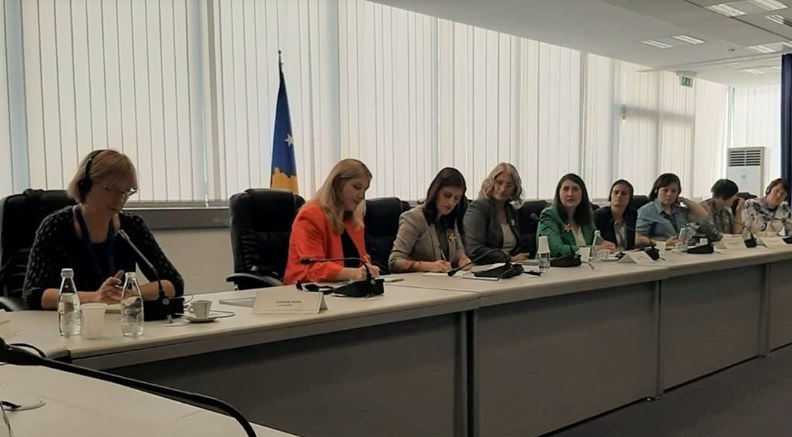 The Agency for Gender Equality on 21 October has welcomed in a meeting a delegation from Ukraine, who will stay one week in Kosovo. The delegation from Ukraine today was informed by the Chief Executive of AGE Edi Gusia and Chief of Legislation form AGE regarding the experience and the model of Kosovo in service of war victims of sexual abuse. The aim of this study visit of delegation from Ukraine was supported by Dr. Denis Mukwege and it was said that they are here to learn from institutional and Kosovo actors, those who are governmental and non-governmental about the experience in challenges and lessons gained from treatment of victims of sexual abuse during the war. Kosovo is the only country in the world that now is implementing a model of scheme of compansating the victims of sexual violence during war.
The foundation Dr. Mukwege is a international organization for human rights created with aim to end the use of sexual violence in the conflict. Along with its special counselor, the Congolese gynecologist and women human rights activists Dr. Mukwege, the foundation also supports projects to assist the survivors in whole world, globally. The Mukwege Foundation, through its office in Hague and Geneva works with government and international organizations to execute norms and regulations that prevent sexual violence. He Mukwege Foundation is Secretariat for SEMA, a global network of Survivors and to end the sexual violence of war.
Also, during the day the delegation from Ukraine had meeting with Commission to verify the status of Survivors of sexual violence during war.
The delegation was having the possibility to know closer with work and immediate support that commission has shown for the categories of victims of sexual violence during war.
In the evening in honor of delegation from Ukraine the receipt was organized by AGE, while present in the evening were representative of Diplomatic Core in Kosovo.
The visit was supported by project consortium NIRAS CPM International through the project of Swedish Embassy- SIDA.