On occasion of opening the campaign of 16 Days of Activism, International Day to Eliminate the violence towards Woman, The Agency for Gender Equality within the Office of Prime Minister will organize today, 25 November 2019 the discussion table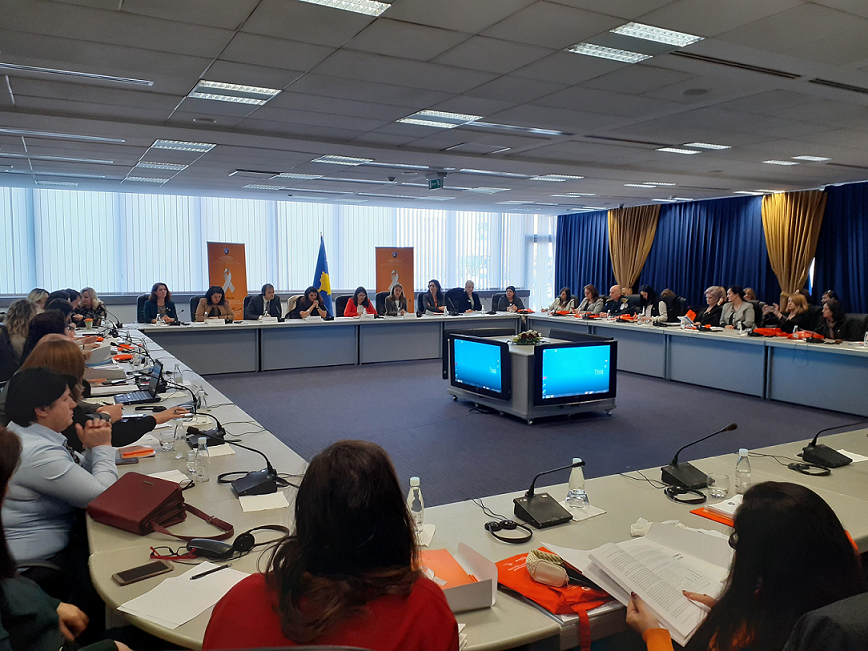 November 25, 2019
On occasion of opening the campaigns of 16 Days of Activism, International Day to eliminate the violence towards Woman, Agency for Gender Equality within the Office of Prime Minister will organize today on 25 November 2019 the round table where it was presented the Manual to assess the Impact of Gender Equality as well as presentation to assess the Execution Standard Procedures of Action for Protection against Domestic Violence,
The Chief Executive of Agency for Gender Equality Mrs. Edi Gusia, in opening of campaign stressed that the "16 Days of Activism it is not a day to celebrate, it is to call to awareness for whole society to ask, if we have worked sufficient to protect all these women and girls who were the victim of domestic violence, gender based violence during 2019? Unfortunately, during 2019 we had 6 loss of life, as a result of very challenging mentality which minimize the consequences of violence towards woman and reaction continues to be slow to all those who demand assistance and our support, stressed Mrs. Gusia.
She said that we as institutional have done positive steps towards fulfilling the legal frame and institutional mechanism, which offer protection against domestic violence and gender based violence. However, there is a need to work towards offering a quick reaction in an environment for violate life situation. The engagement to eliminate gender based violence; domestic violence should be a center of our political, education, informing agenda, prevention and reaction towards this destroying phenomenon should be a drafting, budgeting and drefting policy as well as cultural reaction.
Property and inheritance e issues which leave girls and women to live in violent family environment, supporting initiative which create economic independence, social carelessness, accommodation for survivors of every kind of violence, financing the shelters, approach on justice, eliminating all bureaucratic and legal barriers, which demands engagement of institutions, university, civil society, media nowt to allow to lose life and create a possibility for dignified life, where every woman and girls to feel protected and save.
Director for Assistance and Development (SIDA) from Swedish Embassy Nasrin Pourghazian on her greeting remarks said that 'we with AGE had a very importan parnership and stresed that exept Kosovo, gender based violence happens also in Sweeden and this is a only national problem, but global problem. Te role of goverment is very meaningful and as intitutions have positive impact to improve the system. Furthermore, she stressed that i was a pleasuree to take part in presentation of GIA Manual as an important instrumenr for gender integration as assitance to Kosovo institutions.
I meantime, Reyes Charle Cuellar, Human Rights Advisor in European Union Office in Kosovo during opening remarks said that 'today I have come to represent the EU Office which today is discussing the gender equality in Mitrovica North and Prishtina. AGE has a broad mandate and it is engaging seriously in fight against violence towards women, while for EU it is fundamental right in all relations with others who promote and engage for equal rights and their advance.
While David Oberhuber, Chief for International Cooperation-GIZ was very happy to represent GIZ and stressed that domestic violence is not present only in Kosovo, but also in Germany and the number of killed women in 2019 was 120. Today, he said "I am happy that we have PSV and we need engagement of all to be more functional".
The presentation of manual to assess the Impact of Gender Equality was presented by Mrs. Blerinda Idrizi, Leader of Niras CPM International Project/ a project supported by SIDA, while Leonora Selmani- Chief of Legislation Department presented the Assessment to execute Standard Action Procedures for Protection against Domestic Violence which was enabled with through International Cooperation GIZ.
At the end of meting it was shown a television Video-spot from AGE about health mechanism about
AGE, also at 17:00 till 24; 00 hrs. will lighten the Government Building with orange color and put a white tape.